Our school was a hive of activity last week celebrating Science Week 2019. There were many opportunities for the children to engage in Science activities throughout the week. We had a Scienceteaser of the Day, Class Challenges and we finished up our week of science activities with a Science Fair on Friday.
Our students spent the week exploring, designing, hypothesising and working together on various Science projects. For the Class Challenges, the Junior End had to make the tallest tower they could using just 20 paper cups. There were steady hands and nerves of steel on show on Wednesday morning when the students representing each class built their towers. Senior Infants B and 2nd Class B were joint winners taking home the title of Junior Class Champions 2019. The Senior End took part in the Egg Drop Challenge. They had to design a container for an egg that would ensure the egg stayed perfectly intact when dropped from a height. They could only use limited supplies of newspaper, selotape, string and straws. There was great craic in the Hall on Wednesday afternoon when the egg containers made their first and for most, final launches!! Thankfully the ingenious design from 5th class managed to protect the egg, making them the Senior Class Challenge Champions 2019.

The highlight of Science Week was on Friday with our school's Science Fair. All classes displayed a hands on science experiment that they had been working on during the week. All the classes had the opportunity to see and test out the experiments and discuss them with the classes involved. There were many experiments across all the strands of the curriculum. We had magnets, rockets, weather jars, electric circuits, dancing rice and catapults to name but a few. Have a look at the videos linked below to see the wonderful work and hands on learning involved. It was a great opportunity for the children to be so engaged in their own learning.
We are looking forward to Science Week 2020 already!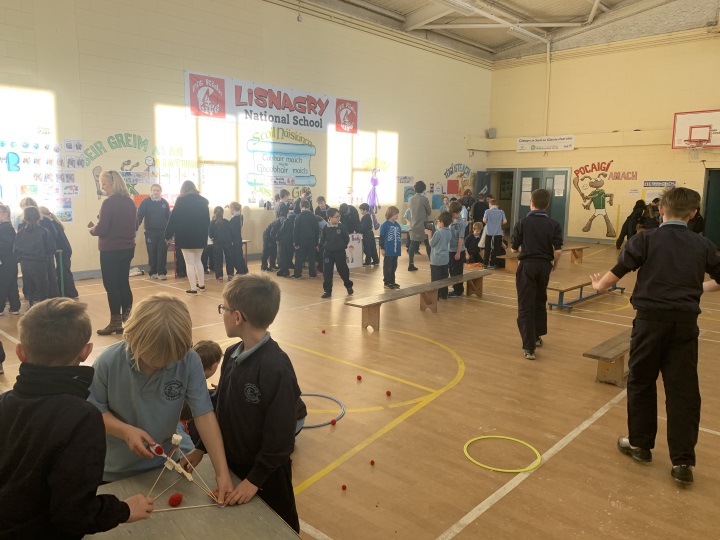 Click on the links below to see the classes showcasing their work at the Science Fair
2nd class A
2nd class B
3rd class A
3rd class B
4th class
5th class
6th class A
6th class B
Junior Infants A
Junior Infants B1
Junior Infants B
Senior Infants A&B
Senior Infants A
Senior Infants B