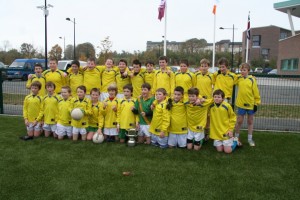 This year the boys had a very successful year in Gaelic Football.  We started training in the third week of September.  We qualified for the East final after beating Crecora and Donoughmore along the way.  We beat Roxboro in the East final by 1 point.  It was a very hard fought encounter.
After that game we were then through to the County Semi-final but unfortunately we lost in extra time by 2 points.
In the mini 7's we won 6 games in a row to win the East final against Tineterriffe by 2 points after a Peter O'Grady goal in the last minute. Again we were through to the County semi-final against Courtney N.S. We won by 4 points and  booked a place in the County Final against St. Pauls for the first time in the schools history.  Unfortunately we lost but it was a great season. Well done to all our coaches and parents for all the support.